by Jon Rappoport
June 19, 2023
(To join our email list, click here.)
---
Continuing my "greatest COVID hits" articles. To read my introduction to this ongoing series, go here.  To support my work and get value for value, order My Matrix Collections here and subscribe to my substack here.
---
BOOM! My new novel, THE GRID LAID OVER THE WORLD has been released! To learn more, click here.
---
April 17, 2020 [America in 'lockdown': Day 35.]
You're sincere. We get it. You can stop now. You've already won a gold star on the blackboard from the teacher. And yes, the epidemic is all Trump's fault, because he called it the China virus, and he should have starting locking down cities in 1998. Right. Sure. Of course.
I won't try to make a distinction between the junk science you worship and actual science. You're too far gone for that.
You're in a box. In your minds. You've been in that box for a long time. It's created by the "authorities in charge," and their super-coiffed high-priced press hookers. The recent order to go on lockdown was just another piece beamed into that box, and you stood at attention. Yes sir.
Even some of you anti-vaxxers are in the box. What did you think you were saying about viruses with your stance on vaccines? Let me translate. You were saying, "We can deal with viruses, we don't need your toxic vaccines to gain immunity." But now, all of a sudden, with this ghost fake virus, you fold up like puppets. You ask your masters to pull on the strings so you can put on your masks. All along, you've had a piece of mind control stuck in your domes you didn't know about. I mean, really.
To all you pod people: you needed a new religion at this late date?
I'm sure some of you were actively against the Iraq war under Bush 2. You bucked the artificial consensus. But now, you salute and enlist. Can you back up just a step and take a peek at yourselves and glimpse how ridiculous you look, in lock-step, masks on, gloves on, trudging 27 feet apart down the middle of some deserted Main Street?
I'll even bet there are long-time JFK assassination researchers in masks. For decades, they've combed through one false trail after another, traveled through halls of mirrors, finally arriving at the door of the CIA…but now, after three sentences from that petty bureaucrat Fauci, they're in the cult. Bingo, bango, bongo.
I understand people donning masks if their grocer won't let them in the store without one, but I'm talking about something else.
"Going pod" is quite a phenomenon. Yesterday, the person was living a regular life. Then, all of a sudden, with no apparent thought involved, the robot-ness grips him. "Yes," his wife says. "He seems to be the same person, but he isn't. I don't care what anyone says. For God's sake, I've been sleeping in the same bed with the man for twenty years. I should know. This is someone else."
Her oh so reasonable therapist—played by Leonard Nimoy in the 1978 version of Invasion of the Body Snatchers—tells her: "I understand. Look, people are under stress these days. Social changes are dislocating our sense of Place. Your perception about your husband is actually a symptom of a wider unrest. I'm not asking you to change your mind. Just be with this odd new sensation you have. I guarantee it'll fade. You'll see him as he was again."
"No. I won't. My husband is somebody else. He's a…replacement."
An old grizzled cigar-smoking tobacco-spitting two-gun rancher isn't out on the range anymore herding cattle and swigging whiskey. He's sitting in a barn, mask and gloves on, next to a placid cow. He's waving a wand at her. "Hmm, Bessie's temperature seems to be elevated a tenth of a degree. Maybe she has the COVID. I better call the public health people. They should come out and disinfect the whole ranch. We'll shut down for a month and stay indoors and play with the Lego Harry Potter set…"
A wan thirty-year-old with a degree in biology from Harvard shows up in a New York 7-Eleven wearing five translucent plastic shower curtains. He clomps down aisles and tosses items into a briefcase containing chlorinated wood chips and dried dog turds. He's determined that his whippet, Phillip, was infected, then recovered, and is therefore immune. The whippet antibodies may be protective.
"Today, on deserted Jones Beach, a lone lifeguard ventured out into rough waters to save an unresponsive swimmer. Unfortunately, the lifeguard, wearing a hazmat suit, sank below the waves. A roving team of Long Island public health police rescued and revived him. The swimmer turned out to be a blow-up doll equipped with a homemade 'virus sensor.' It was being operated remotely from a beachfront cottage by a PhD biologist, who was carrying out locally funded research for a group of worried New Yorkers. They were trying to determine whether it was safe to sneak out of the city and take up residence in their summer homes on the Island shores…"
Hail to the pod.
TURN ON THE ECONOMY.
---
These "Greatest COVID Hits" Series Of Articles are archived under the category Covid Revisited
These articles — at the time of original publication — are archived under the category Covid
---
(Episode 47 of Rappoport Podcasts — "The Exact Parallels Between Fake Viruses and Fake Mental Disorders; Exposing False Science Down to the Core" — is now posted on my substack. It's a blockbuster. To listen to this podcast, click here. To learn more about This Episode of Rappoport Podcasts, click here.)
BOOM! My new novel, THE GRID LAID OVER THE WORLD has been released! To learn more, click here.
---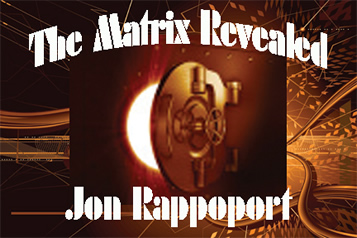 (To read about Jon's mega-collection, The Matrix Revealed, click here.)
---
To read Jon's articles on Substack, click here.
---
Jon Rappoport
The author of three explosive collections, THE MATRIX REVEALED, EXIT FROM THE MATRIX, and POWER OUTSIDE THE MATRIX, Jon was a candidate for a US Congressional seat in the 29th District of California. He maintains a consulting practice for private clients, the purpose of which is the expansion of personal creative power. Nominated for a Pulitzer Prize, he has worked as an investigative reporter for 30 years, writing articles on politics, medicine, and health for CBS Healthwatch, LA Weekly, Spin Magazine, Stern, and other newspapers and magazines in the US and Europe. Jon has delivered lectures and seminars on global politics, health, logic, and creative power to audiences around the world. You can sign up for his free NoMoreFakeNews emails here or his free OutsideTheRealityMachine emails here.