Where to begin? This is a massive octopus of a topic with so many tentacles that it would be a challenge to cover every part, so we will highlight several areas of the most critical concern. (8 minute read)
Do not be discouraged by the following report but rather be informed and then review the Solutions provided at the end.
Climate Changes. It's a Historical Fact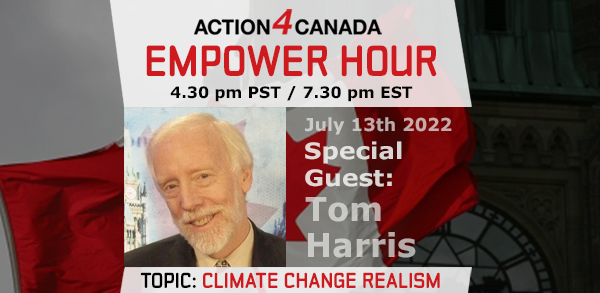 When: Wednesday, July 13, 2022 4:45pm PST/7:45pm EST Register in Advance. The zoom doors open at 4:30pm PST and the Orientation for new members is from 4:45-5:00 pm PST. The Empower Hour begins at 5:00pm PST/8pm EST.
Tom Harris, the Executive Director of International Climate Science Coalition Canada, was a climate alarmist but after following the science changed to a climate realist. Mr. Harris joins Tanya to discuss the multi-layers of the Climate Change fraud, that is enriching the globalist elites and deceiving humanity. Climate change is just another way to create 'green' billionaires and to decrease the world's population. Learn more about Tom and share this Empower Hour Invite.
THE GREAT GLOBAL WARMING SWINDLE DOCUMENTARY
When you build your lies on a foundation of sand, they will come crashing down.
This documentary exposes the fraud created by the global warming institute of the United Nations – the International Panel on Climate Change (IPCC). Watch Full Version Here The video provides irrefutable evidence that the current fear mongering surrounding climate change is a hoax. It provides graphs and statistical information on the history of the world's climate, explaining that climate variations are perfectly normal. The current orchestrated climate hysteria is founded on a theory that the culprit is the continued evolution of the industrial revolution and therefore, climate change is man-made. It claims that this has resulted in an alarming increase in CO2 levels which are destroying the earth's atmosphere. However, that theory is proving to be flawed in the face of evidence that reveals that CO2 levels have no significant impact on the climate.
In response the UN and global cabal are, once again, having to quickly shift direction and are now blaming climate change on "nitrogen." Farmers around the world are the new target.
Cows Are NOT Harming the Environment