Global warming is one of the most heated debates of our time, because it involves government policy that will profoundly affect our lives forever more. The political, economic, and social consequences of being wrong are grim beyond words. You have heard from many sources that global warming is real and that only crackpots think otherwise. Now it is time to hear the other side.
Read More HERE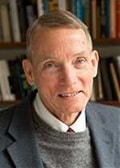 William Happer
The Real Inconvenient Truth; More CO2 Benefits the Earth
Prof. Happer is a professor at Princeton University in the field of atomic physics, optics, and spectroscopy. He is a pioneer developer of adaptive optics. He has served as Director of Science in the US Department of Energy. Professor Happer is a strong voice against the myth of anthropogenic global warming and says there is no reason to believe that CO2 levels are a major factor in climate change.
Tim Ball
Global Warming Is the Biggest Deception in History
Prof. Ball is a retired professor at the University of Winnipeg, Canada. He earned a Doctorate of Science at Queen Mary College, University of London, was Chairman of the Canadian Committee on Climatic Fluctuation, Chairman of Winnipeg's Advisory Committee on Hazardous Waste, has authored 53 scientific papers, and is the author of The Deliberate Corruption of Climate Science. Professor Ball says that human-caused global warming is the biggest deception in history.
Willy Soon
Man vs. Sun; Put Your Money on the Sun
Dr. Soon is a solar and astrrophysics scientist and an editor for the journal New Astronomy. He co-authored a scientific paper, "The Maunder Minimum and the Variable Sun–Earth Connection", that debunks anthropogenic global-warming from the perspective of astrophysics. Man's effect on the Earth is puny compared to solar-storms. The record of climate change from 1645 to about 1715 confirms that global warming is caused by solar variation, not human activity.
Istvan Marko
CO2 Is Not Pollution. It is Our Friend.
Dr. Marko is a professor of Chemistry at Catholic University of Louvain, Belgium. He says that everyone should be concerned about pollution of our air and water by toxic chemcals and unsightly waste products. However, CO2 is not in this category. CO2 is not a health hazard but is essential to the life cycle of plants and humans. More atmospheric CO2 actually would be healthy for us and good for increased food production. He has enraged the global-warming myth-makers by likening their belief system to a religion.
Lord Monckton
Global Warming Is A Monstrous Hoax

Christopher Walter Monckton, 3rd Viscount Monckton of Brenchley, UK, is known for his journalism, conservative political views, opposition to the EU, and especially for masterful debunking of global warming. In 2016, he was a national leader in rallying the British vote on behalf of BREXIT. Lord Monckton is a member of the Freedom Force Hall of Honor.